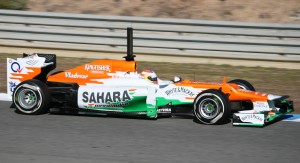 Melbourne, Australia: 15 March, 2015 – Channel IT, a technology group that supplies Mobile Telecom products and services, has officially become latest partner of the Sahara Force India One Formula One team for the 2015 season. Channel IT branding will appear on the side pod wing of the VJM08 from today's Australian Grand Prix.
Channel IT works with mobile phone operators worldwide to deliver a range of network infrastructure solutions and mobile VAS, including its airtime credit services and an innovative mobile advertising platform. Over the past 10 years, they have built a reputation as trusted experts for a host of major network providers.
Sahara Force India Formula One Team is About Sahara Force India
Sahara Force India is a Formula One team that has competed in the FIA Formula One World Championship since 2007. The team has grown in competitiveness and established its reputation as a genuine podium contender. Sahara Force India is led by Indian industrialist, Dr. Vijay Mallya, in partnership with the Sahara Group, and is based in Silverstone, UK, close to the world-famous Grand Prix circuit. Each year the team has moved forward with the 2014 season being it's most successful to date. For 2015, the team's new car, the VJM08, builds on the strengths of the 2014 campaign with Mexico's Sergio Perez and Germany's Nico Hulkenberg behind the wheel.
Both Channel IT and Sahara Force One are excited about their collaboration:
Bassim Haidar, CEO of Channel IT Group: "In line with our strategic direction to take Channel IT brands such as Nairtime, ChannelVAS and AdVoice to new markets, we expect Sahara Force India to accelerate this process. Formula One reaches all corners of the globe and we are looking forward to meeting existing and new customers in these vibrant places."
Vijay Mallya, Team Principal and Managing Director of Sahara Force India: "As we gear up for the start of the season it's great to welcome Channel IT as a team partner. They are a significant player in the mobile world and recognize the huge potential of using Formula One to raise brand awareness and drive new business. I'm sure they will enjoy being part of our journey this season and we will do all we can to make this partnership a success."
About CHANNEL IT
Channel IT Group supplies Telecom products and services to Mobile Operators worldwide. Headquartered in Dubai, the group comprises of 4 brands that enable operators to run networks efficiently and offer innovative and profitable services to their subscribers. Nairtime is the leading company in the field of airtime credit services, whereas ChannelVAS brings virtual airtime distribution, mobile financial, content and entertainment services to market. AdVoice is the group's revolutionary mobile advertising service that monetizes ad inventory generated by operator's channels and Channel IT is the largest independent supplier of mobile network infrastructure such as towers, antennas, RF and other cell site solutions.
-Ends-
For more information, please call:
Monica Elashy
Channel IT
Mob: +201272202250
Monicaelashy@channelit.com